5 Easy Steps to A Photo Gallery Wall
Create your photo gallery wall easily with these steps, including budget friendly tips from printing photos to purchasing frames. I've also included THE BEST secret to making your gallery wall a breeze to keep updated.
Am I the only one out here in this world that has so much trouble coming up with photo wall ideas? You see them everywhere. You love them. But then you try to execute them and actually put the photos on the wall, it's like a ghost town up in your brain.
We created this little gallery wall over a year ago to give our entryway a little bit of liveliness since it's so small.
Since I haven't updated these photos in well over a year, I decided it was time to do so since we got some really good ones of our family this year. However, whilst doing that, I also thought it'd be super nice and generous of me to share some tips on how to create a gallery wall of your own without banging your own head into said gallery wall.
1. Symmetric or scattered?
We've had both. In our old house, our blank wall was SO FRICKIN' GIANT that if we did something symmetrical like this on it, it would have just been awkward and hilarious. But mostly awkward. So, in your own home, on the wall that will be housing this said photo wall design, determine what will suit it best. Something symmetric or scattered?
Our wall here is taller than it is wide, so we chose a rectangular 3×3 design. You could do smaller frames in an 8×8 design if you wanted for all I care. It's your world, squirrel. I'm just tryna get a nut. Or somethin'.
Decide on color or black and white
You beautiful people may disagree with me here, but I'm all about having things uniform. Especially if you're going with a symmetric design. So, before you get wild and get your photos printed, decide whether you want them in color or black and white. If you don't know me by now, I'm terrified of color and therefore, went black and white. You surprised?
2. Find your frames
Black frames? White ones? Wood? Gold? Floating?
I mean we obviously went with wood frames. But again, all this depends on the style and look you're going for, but for us, we knew we wanted wood since we knew until that wall is gone the faux wood cased openings would be right near it.
Speaking of frames….
3. Don't sleep on Walmart!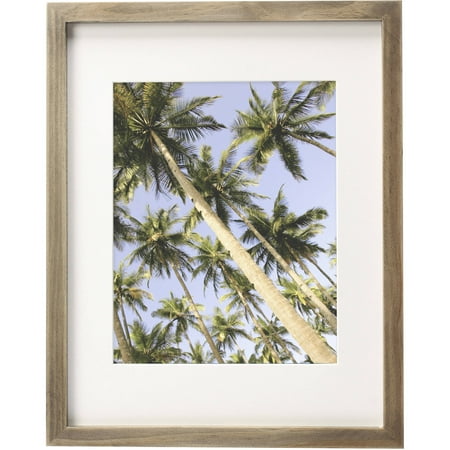 That's a fancy way the kids talk meaning Walmart has great options! We got 10 8x10s printed from them for $17 and they're great quality. AND these gallery wall frames?! WALMART! (*Affiliate) They were cheaper than anywhere we could find, including Target and Amazon. And they were absolutely exactly what we wanted!
Now for the fun part. Once you've determined your layout of your frames….
4. Lay your photos out before you put them in the frames
Lay them out in an order that feels good and then step back and take a look.
Do you see what I see? 2 pictures of little boy on the lower left and two pictures of sweet girlie on the upper right. I wanted to kind of mix those up, but I wouldn't have seen that had I not taken a second.
Bam. I like this layout. I think it's also helpful to have an "anchor" photo. Notice in ours, the photo of us in the middle didn't change. For me, it's a kind of visual reminder that our family started with us and grows out from us. So, in my mind, the picture in the middle of this gallery wall will always be of us.
However, I promised you that best kept secret for your own photo wall. You ready?
5. Command strips
"Say whaaaaa? You crazy for that one girl!" – y'all talking to me right now.
Listen, call it the fact that I'm indecisive or I don't like the idea of having to patch nail holes every 5 seconds because I can't measure right, but command strips on the back of frames is THE EASIEST way to make it a more enjoyable experience changing these photos out.
That's a wrap! I sincerely hope these tips are helpful when you go to create your own photo wall or gallery wall of any kind.
Do you have any tips that I missed or that I could use in the future if we do another one of these somewhere else? If so, let me know!