Thrifted Match Holder From Candle Jar
This easy DIY match holder from a thrifted candle jar is something you can do on a super tiny budget and have a functional, modern way to store your matches in a bathroom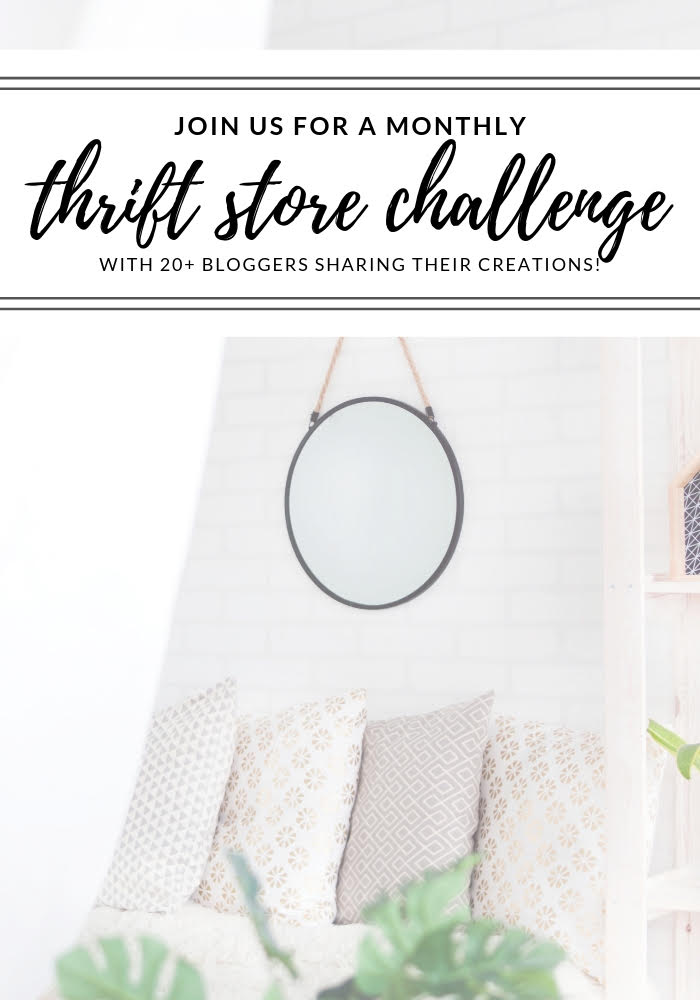 The Rules:
 
Upcycle an item(s) from a thrift store, resale store, or garage sale into a new piece of decor.
 
There's no monthly theme.
 
There's no budget to stick to.
Meet the Hosts
Angela | Simply Beautiful By Angela – Jenny | Cookies Coffee and Crafts – Heather | Glitter On A Dime – Amanda | Domestically Creative – Denise | My Thrifty House – Molly | Just a Little Creativity – Angie | Flippin Fanchers – Victoria | Dazzle While Frazzled – Debra | Shoppe No 5 – Marie | The Inspiration Vault – Deborah | Salvage Sister & Mister – Pili | My Sweet Things – Carmen | Living Letter Home – Habiba | Craftify My Love – Emy | Semigloss Design – Meredith | Southbound Blog
Make sure you follow our board on Pinterest for more upcycled decor inspiration!
Thrifted Match Holder From Candle Jar
In case you missed it, our bathroom is DONE! Like, with pictures and everything!!! You should probably go ahead and check out that full reveal. Go ahead. I'll wait.
I KNOW RIGHT?! But did you notice this little guy?
Yeah that thing, the one holding the matches. I made that and I'm going to show you how easy (and cheap) it was to do!
Supplies Needed:
Small glass jar (I got mine at Goodwill for 79 cents, y'all!)
Matches/Striker
Paint color of your choice
If you have a candle in your jar like I did, you'll want to remove it. I've actually got a super easy way for you to remove candle wax from a jar. First, boil some water.
I used a water kettle here. Once it's boiling, pour the water into the glass jar. Just trust me.
If you notice here in the picture, the wax actually starts to look kinda like a 80s lava lamp and starts floating to the top so that's fun.
Once the water cools, you can actually just peel the wax right up out of the water.
However, if you notice, you'll see that I still had some in there. I think this is honestly because the water wasn't actually boiling when I poured it in, it was just really hot. So, I actually had to do this process again. And then again.
What I'm saying is definitely do as I say and not as I do and make sure your water is boiling and you can probably get this done in one step.
But hey! Would ya lookie there? Once it was all melted, I just took a knife and popped up the wick and voila! So, now next time you have a candle in its glass haven and you want to reuse it, you can use this super easy trick to remove the candle from its glass jar!
After you wash your glass jar with soap and water, now it's time to dip it in your paint! I dipped ours in a gallon bucket of paint. The color I chose was the one we used to paint our doors with which is Sherwin Williams Iron Ore. When I say I dipped it in, I literally held it at the top and dipped it down in that paint and pulled it back out. I let it dry on some wax paper.
It's weird what I learned about matches in this project. Did you know that you can't just use sandpaper to light a match? Did you know there's a chemical in the striker on the side of the box that "combusts" to create the flame? Did you know that STRIKE ANYWHERE MATCHES CAN JUST LITERALLY LIGHT THEMSELVES ON FIRE FROM THE WRONG END?!? Cuz I sure as H didn't.
I had seen a couple things on Pinterest where you could basically etch the bottom of your glass and then use that to strike the match. I thought I'd be cute and try that. Don't be cute like me. Just cut the striker off the box and use some glue to attach it. It requires you use strike anywhere matches and I don't know if you know this but STRIKE ANYWHERE MATCHES CAN JUST LITERALLY LIGHT THEMSELVES ON FIRE FROM THE WRONG END. So, strike-just-somewhere matches it is for me forever.
You can totally tell where I tried to etch this glass and it was a huge BONK. But once that's done, so are you! All that's left is to strategically place it in front if your hilarious poop sign you got to have in your bathroom and you're all gravy, baby!
I liked this post because it's two of my favorite things – SAVING DOLLAS by using a THRIFTED match holder from a candle jar and SOLVING PROBLEMS by show you how to remove wax from a candle jar! Saving dollas and solving problems. Maybe that'll be the name of my next blog. Word?
And now for more thrifty goodness!
Check out what my fellow upcyclers created below!