$100 Room Challenge – Pantry Update
Joining the $100 room challenge to update our pantry. In this post, I'm sharing our design plans and some inspiration for how we are planning to makeover this room on a budget.
I am fully aware that the last time I decided to tackle a room challenge, it was not only a fail, but a MISERABLE EPIC failure that left me without a bathroom until….like now.
But this blog wasn't created so we could nail everything and have you follow our example. Cuz that ain't real and it definitely is NOT how things happen around these parts.
Do as we say, not as we do or something.
However, when I found out and was invited to participate in this $100 room challenge with Erin at Lemons, Lavender, and Laundry I figured we would tackle something way smaller, like we should have done with the One Room Challenge anyway. Ah well, live and learn.
I thought I might share some inspiration for what we are thinking. I wasn't going to put together an entire mood board because it's a pantry. There isn't much designing; just more inspiration and then work as fast as possible so my pork rinds and meat sticks won't be just out for all our guests to see.
COLOR
You should know nearly our entire house is white or some shade of gray. If you don't believe me, you haven't seen any of these photos:
See? Told you. But I really wanted to try something. Briana at Cultivate Interiors is a friend of mine and I got to spend some time at her house since those kitchen cabinets were painted and I WAS FREAKING SMITTEN.
The picture really and truly does not do it justice. It is the perfect shade of a color that I would totally have in more spaces in our house. But it's starting in the pantry. At least that way if I end up hating it (which I won't) it'll at least be behind a closed door.
SHIPLAP WALLS
I know I threw a fit and basically didn't want a single stitch of shiplap in our house, but it's grown on me.
I will say that I definitely still don't want it everywhere, but I've talked about before that you need to do what fits the feel of YOUR OWN house and don't apologize for it. And even though our house is a full blown cape cod, shiplap feels good in here. So, here we are. We're planning on shiplapping the walls inside this pantry.
We are essentially going to be using the same method of shiplap that we've already used to do our other walls, which happens to be the same one that Liz Marie Galvan used on her blog here.
WOOD SHELVING
Guys, does ANYONE out there PREFER wire shelving? I'm asking because not only do they still manufacturer it, but it's ALWAYS everywhere. I just don't understand. Anyhoo, we are going to replace our wire shelves with stained wooden ones.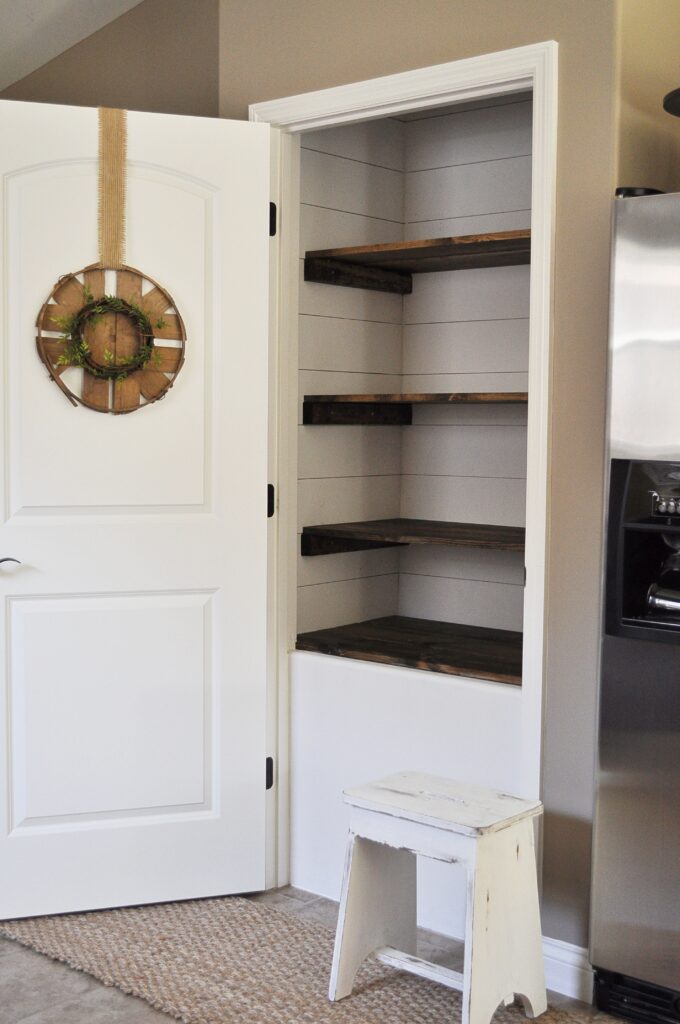 Ashley from Little Glass Jar has the right idea. She nailed it with her pantry makeover. She did shiplap too and it looks freaking awesome. Ash, if you're reading this, I kinda wanna be BFFs. If not, it's cool. Whatevs.
Oh. I guess I should show you some before pics of our space and what we're working with.
To the left, you can see the cabinets where last year we created some extra storage space. The door on the left is the pantry, the door on the right is a tool closet that is an ABSOLUTE DISASTER inside.
So, there you have it! I'll also be sharing some behind the scenes, "in progress" kinda stuff in my Instagram stories, so follow along over there! I've got high hopes that we ACTUALLY WILL be able to complete this in the time allowed. But as always, send ya prayers.