Modern and Feminine Office Design Plans
Starting the spring One Room Challenge by sharing our modern and feminine office design plan, including navy and gold accents and budget Ikea items
Holy crap. I can't believe it's been a year since we thought we were cool enough to pull off our very first gut job ever and complete it in six weeks. We decided to try our first round of the One Room Challenge exactly a year ago and gut our guest bathroom. I honestly had high hopes. Long, miserable story short, it took us the better part of 9 months to complete it, but we did! If you want to see the completed work of our guest bathroom reno, you can check that out here.
To see our previous posts on our One Room Challenge last year, click any of the links below:
I know I should be a little more nervous about starting this season's One Room Challenge, but I'm really not. Couple reasons. One. NO GUT JOB. That alone thrills me. Had I known better, I most definitely would have done something that wasn't a full gut job to set myself up for success. But whatever. Gotta live and learn. Number two reason I'm not freaking out about this – Because I've been D Y I N G to get my hands on this room for a long time.
Since I've been working a lot more on ze blog recently, I'm really wanting a dedicated workspace so I'm on the couch just a little less. Don't get me wrong, I love this couch but I wanna feel like an adult. At least sometimes. An adult who wears basically jammies all day. Without further adieu, here is the design plan for a modern and (semi) feminine office:
The plan is to be able to have my husband work in here if he needs to, so when I say "feminine office" I really just mean that the wallpaper is slightly more girly because it has some blush colors in it. But that's about it. He has his own office at an actual location outside of the house. Let me break down these modern and feminine office design plans for you a little bit further:
*Some affiliate links may be used below for your convenience.
1. Wallpaper – I found this little ditty on Spoonflower. Let me say this – I love it, but a sample of it hung on our wall for approximately 8 months because I couldn't pull the trigger on the price. It was so expensive and it's never on sale. Except jokes on me because it went on sale YESTERDAY after I finally ordered it. Cool, guys. Really cool.
2. Sconces – How are 2 sconces cheaper than wallpaper for ONE short wall? You tell me and we'll both know, but all I gotta say is praise the Lord above for Amazon.
3. Clock – I won't say that this entire design plan revolved around this clock, but …. okay yeah I will kinda say that. Because it kinda did. I was strolling through the aisles of Ikea and stopped in my tracks. Weird that this stopped me but I just loved it.
4. Wood Desk Top – Now, this is a score. We found this in the as is section and it was completely the perfect size and shape and it was only $70! Compared to over $100, the fact that I've already found a deal on this top makes me thrilled.
5. Desk Drawers – These navy drawers from Ikea are exactly what I had in mind when I was looking for a desk solution for our office! Plus it makes me giggle thinking having one big desk because it reminds me of when Dwight made megadesk in an episode of The Office. Anyone?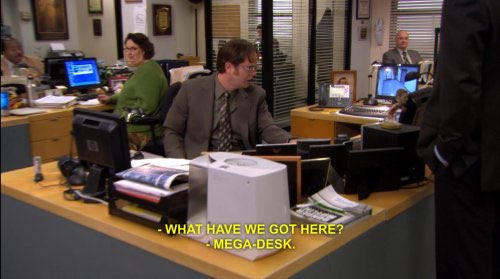 6. Chairs – Yes, I would love to have gorgeous fluffy chairs but the reality is it's not in the budget. So, we are hoping to hack these and make them a little less "cheap white plastic Ikea desk chair" and more "moderately inexpensive, slightly classier plastic white Ikea desk chair."
7. Wall Color – The wall is already painted and we're not changing anything and the color is Sherwin Williams Agreeable Gray.
Can I be honest? I would love the ability to put new floors in here, but again, we have the same problem we do downstairs. Our upstairs does have doors to separate the rooms, but they all flow together so having new floors in here and not everywhere else just doesn't make sense. Again, I'm trying to set myself up to win here and make this a great office makeover, but on a budget. To get some context, here are some pictures of the space that we're working with now:
Through those french doors is our playroom. See what I mean? same flooring. So, for now, that carpet is staying. We are also going to paint those doors to match our other painted doors and add our favorite doorknobs that we have in the rest of our house.
And here it is as a blank slate. Also, our plan is to trim out a piece of glass as a dry erase board on the left side of this wall to add a bit of balance. This is the wall that will have our wallpaper on it as well.
I can't wait to share with you all how our modern and feminine office comes together over the weeks. Don't forget to follow along on Instagram too because I'm of course going to be sharing some behind the scenes as well!