7 Quick & Easy DIY Wood Projects You Can Do This Weekend
A variety of 7 easy woodworking projects you can do in under a couple of hours and with very minimal tools or skill required!
If I'm telling the truth, I kinda wish that this post was us sharing our master bathroom reveal. I don't know what it is with us and bathrooms but so far, our track record hasn't been that great. The truth is with this one, we are SO CLOSE to being done! But it seems every time we go to pick a faucet or shower head that we love, it's either out of stock or discontinued so we are having to get creative over here.
To see other projects we've done in our budget friendly master bathroom makeover so far, click any of the photos below!
Since at this point I'm all about the small wins in most things, I thought I would share with you some easy woodworking projects and ideas that you can complete yourself in just a couple hours and not even a lot of tools required. Also, not a lot of advanced skill because if you don't know, there ain't nothing advanced about my woodworking skills.
7 Easy Wood Projects
1. DIY Plant Stand
First, is this modern designed box planter. My friend Tylynn at Bitterroot DIY made this and it looks awesome! I love that you can customize this so easily with paint or stain and really make it your own.
2. Framed Canvas Art
This amazing style of creating your own art is from Stephanie over at Abbotts At Home and then she framed it out with wood. She also does this trick in drawers and you will MOST DEFINITELY see this in a future project of ours FOR SURE!
3. Organized Jewelry Solution
I used to have this many necklaces back in the day until I realized I wore about 2 of them so I got rid of them Kon Marie style. Buh bye. But for any of you who may have lots of necklaces and earrings, Christina at The Frugal Homemaker has a great small wood project you can complete to make your own organized jewelry solution.
4. DIY Toilet Paper Holder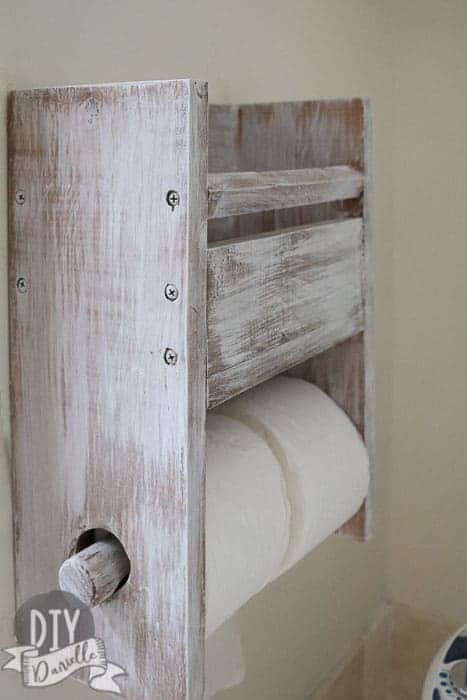 Bathroom related things have a special place on this blog. This DIY toilet paper holder from Danielle at DIY Danielle just follows right in suit with that and I love the whitewash technique done on it. You guys know I tried that for the first time for a pantry door hanger when we redid our pantry at the beginning of this year!
5. Window Cornice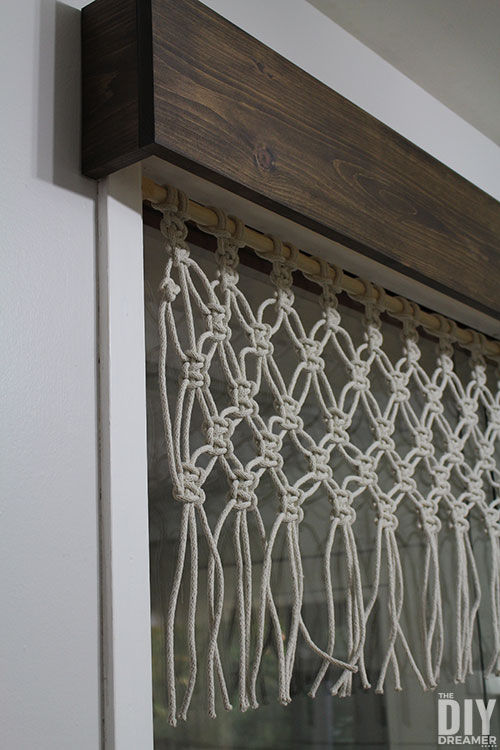 Christine from The DIY Dreamer got her daughter involved on this project which speaks to my heart since we have 2 little ones who like to have their hands (and feet and mouth and bodies and toys) in all of our projects around here. If you're looking for a way to spruce up your windows, here's a great easy woodworking project you can do on your own!
6. Modern Plant Hanger
I always love projects from Brittany at By Brittany Goldwyn. She has a sleek, minimal design style that always just is so aesthetically pleasing and this is no different! She created this incredibly simple design for a plant hanger and it's a show stopper! Check it out on her page!
7. Chair Spindle Candlesticks
Talk about brilliant woodworking ideas. Cindy at DIY Beautify created these candlesticks from old chair spindles and they're GORGEOUS!! You have to go check out how she did this because when I think easy wood projects that look like a million bucks, this one is for sure on my list!
Well, ta da y'all! There really are some talented people in the blogsophere and so if you're looking for some easy woodworking projects or something you can do in a couple of hours to even practice your skills, hopefully these sparked some inspiration!